Work and Community Program (SLES)
In the Work and Community (WCP) Program participants target their work-focused self determined goals in a group setting. This program forms the critical bridge between school life and work.
Supports provided in this program include:
helping participants explore and understand their work potential.

focus on capacity building, developing skills, independence, and confidence to work.

are tailored to the individual and their unique pathway to employment.

are reviewed periodically to make sure the supports are meeting the participant's goals.

Workplace Learning (WPL) opportunities provided in a range of settings.
Our Work and Community Program (WCP) runs across two days a week and supports participants utilising their 'School Leaver Employment Supports' NDIS funding.
Whilst we advertise this as a 'program' it is important to note that it is not a 'one-size-fits-all' approach. These supports are person-centred, individually tailored, strategies which can be implemented so participants of varying skills and needs can reach their employment goals.
The NextPath Continuous Learning Pricing Model
Click the link below to view our Pricing model
The NextPath Continuous Learning Pricing Model
Click the link below to view our Pricing model
Workplace Learning (WPL)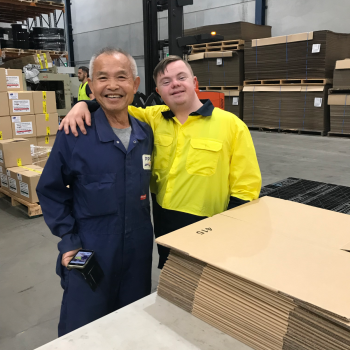 The Workplace Learning program is a shared initiative across Mater Dei School and NextPath Continuous Learning. Working with a range of supportive local business 'hosts', the Workplace Learning program is structured to provide our students and young adults with the opportunities and resources to build transferrable life skills and get them 'job ready' while also facilitating a sense of adult independence.
HOW DOES IT WORK?
Our Workplace Learning program offers two types of Placements:
NEXTPATH CONTINUOUS LEARNING
Participants are young adults who have graduated high school and are looking to explore areas of their interest while building job-readiness skills and a sense of adult independence. Typical placements run for 3 months, but we work with individual businesses to establish what works for them.
MATER DEI SCHOOL
Senior Students (Years 10, 11 or 12) at Mater Dei School are provided with work experience opportunities in the wider community through the Workplace Learning program. These placements are typically shorter in length and are invaluable for building transferable life skills to prepare our senior students for life beyond high school.
Learn more about our Workplace Learning Program
Click the link below to learn more about our Workplace Learning program, and how you can be involved
Learn more about our Workplace Learning Program
Click the link below to learn more about our Workplace Learning program, and how you can be involved