Healthy Living Program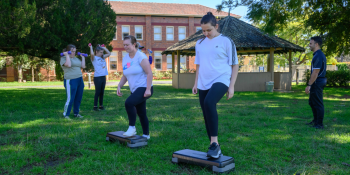 In the Healthy Living Program (HLP) participants work on their health-focused self-determined goals in a group setting. Evidence suggests that a good health and nutrition program can have life-changing results. This is seen through; more energy, increased knowledge, more confidence and improved self-esteem, and fewer serious health issues such as obesity, diabetes, and heart disease.
The Healthy Living Program comprises of group exercise sessions with a Personal Trainer (Physiotherapist), meal planning, shopping, food preparation, cooking lunch in our hospitality kitchen, education sessions integrated from the 'Health Matters Curriculum', skills based meal preparation activities, mindfulness, yoga and meditation sessions.
The Healthy Living Program is linked with NextPath Assessment & Therapy and a Physiotherapist facilitates a group personal training session each week.
All HLP sessions are held onsite of the Wivenhoe Campus which allows us to access and appropriate exercise space as well as the commercial kitchen.