Occupational Therapy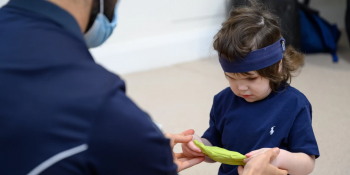 At NextPath, we use an individual's strengths and interests to support their functional participation. We work with individuals who may be living with developmental delay, sensory processing difficulties, ADD/HD, Autism Spectrum Disorders, Cerebral Palsy, chromosomal disorders, trauma, anxiety and many other conditions.
Occupational Therapists work with individuals to help increase independence and participation in everyday activities, supporting them to reach their full potential. Occupational Therapists assess and develop skills in the areas of self-care, sleep, feeding, behaviour, attention, regulation, fine motor, gross motor, play, social participation, visual motor, sensory processing, emotional regulation and throughout life transitions.
What services do we provide?
Occupational Therapy Assessments including fine motor, visual motor, handwriting, gross motor, sensory processing, self-care and functional assessment.

Ongoing individualised treatment sessions in our sensory gyms, therapy rooms or via telehealth.

Outreach sessions to homes, schools, childcare centres or in the community.

Group therapy sessions including school readiness groups, toddler gyms and social skills/alert program groups.

Therapy through an Allied Health Assistant Model.

Liaison and support to other services involved in an individual's care e.g. Preschools, Long Day Care Centres, other Therapies and Schools.

Home programs and parent and carer training.
Does my child need Occupational Therapy?
Our Occupational Therapy services can benefit children or young adults who:
Experience difficulty reaching their milestones

Have delayed fine motor skills which may impact school skills, handwriting or independence in self-care tasks

Experience challenges with their sensory processing and regulation, such as being easily distracted and having poor attention, difficulty tolerating certain clothing, textures, foods and sounds, constantly on the go and difficulty calming.

Have difficulty completing self-care routines and activities. For example getting dressed in the morning, toileting, brushing teeth and sleeping.

Experience difficulty with play skills

Have difficulty with planning and engaging in functional tasks in day to day life

Experience difficulties with their social skills and making / maintaining friends.

Have difficulty with skills required for employment and independent living skills
Occupational Therapy in Action
When it comes to Occupational Therapy, each NextPath Assessment & Therapy client has a different perspective, based on their own unique goals and objectives. Here, four of our clients share their own perspectives on OT. View the video below to hear these perspectives and see the results in action: